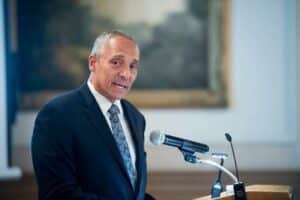 This month, the National Alliance of Community Economic Development Associations (NACEDA), named CNHED President and CEO, Stephen Glaude, as its new Board Chair. Stephen, who has served CNHED since 2014, will apply his diverse leadership experiences from government, the private sector, and nonprofits in his new role as NACEDA Board Chair. Stephen replaces former Board Chair Rick Sauer, Executive Director at the Philadelphia Association of Community Development Corporations.
"CNHED is a long-time member of NACEDA and I've had the pleasure of serving on its board for the past 3 years," says Stephen. "It's a privilege to be chosen by my colleagues, who lead organizations similar to CNHED, to help NACEDA achieve greater impacts."
NACEDA is an alliance of 40 state and regional community development associations in 25 states and the District of Columbia. Our mission is to lead the community development field in creating stronger, healthier, more prosperous communities for those who live there. Through our members, NACEDA connects with almost 4,000 community development nonprofit organizations serving low- and moderate-income communities.